Nearly anything in your home can become art or tools for making art.
Plastic and paper waste can be the perfect fodder for imaginative arts. Cotton buds can be used as paintbrushes and those foam bits that keep tablets from breaking in their containers can become stamps if you cut shapes into them or just use them as paint brushes for toddlers.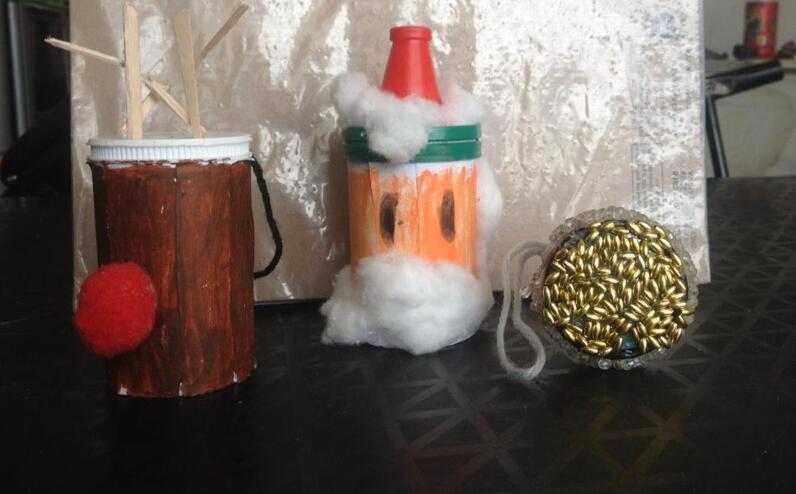 The bottoms of some plastic bottles look like flowers and can be used as painting stamps or for other crafts.
Toilet roll inners, corks, bottle tops, yarn off-cuts, mismatched buttons, all can be used for art in some way or form.
Your kitchen is also full of simple things that can become modelling clay, paint, craft glue or play dough.
A few internet searches will yield many recipes but we've compiled a few, simple flour- or cornflour-based ones that can be used to make basic art supplies:
Home-made paint
(from https://tinkerlab.com/)
Ingredients:
⋇1/2 cup flour
⋇1/2 cup salt
⋇1/2 cup water
⋇Food colouring
Method:
Blend 1/2 cup of flour with 1/2 cup of salt. Add 1/2 cup of water slowly and whisk until smooth.
Divide into equal portions and put into squeeze bottles – empty and cleaned sauce bottles are a good option, add a few drops of food colouring and shake.
Or, put into plastic packets, tie them securely (maybe use Ziplock bags) and allow children to squish the colours into the mixture. Then cut a corner and squeeze the paint mixture into the bottle.
Salt dough
(for sculpting)
Ingredients:
⋇½ a cup of salt
⋇1 cup of flour
⋇Food colouring of paint
⋇Lukewarm water
Method:
Mix the dry ingredients together. Slowly add the water while kneading to make a soft dough. When the dough is no longer sticky, it is ready for sculpting.
To colour your creations, you can either add the food colour or paint to the portioned dough before you sculpt or you can sculpt, bake and paint afterwards.
Once the sculptures are complete, bake in the oven at 250 degrees C until hard or put in a sunny windowsill for a few days (the length of time may vary depending on thickness).
Lots of things can be made from salt dough, coasters, beads (put a stick or needle through the centre of dough ball to make a hole for threading), ornaments – let your children's imaginations run wild.
Play dough
This no-bake recipe is also useful for Grade Rs and 1s, who usually have playdough on their school stationery lists too.
Ingredients:
⋇½ a cup of salt
⋇1 cup of flour
⋇Food colouring of paint
⋇Lukewarm water
⋇A teaspoon of cream of tartar
⋇Tablespoon of oil
Method:
Mix the dry ingredients together. Add the oil and slowly add the water while kneading to make a soft dough. When the dough is no longer sticky, portion and add a few drops of food colouring.
Playdough is very good for keeping young children occupied. If it's bedtime, and your little one insists they're not sleepy, add a bit of lavender essential oil to some playdough and after a few minutes of quiet playing they'll quickly change their minds about being sleepy.
A sick child can also be kept busy with a ball of dough seasoned with eucalyptus oil for decongestion.
Paper mache
(from https://happyhooligans.ca/)
School going children have probably brought their used school books home by now. That's a lot of used paper that will probably end up in the bin. Why not use it to make paper mache crafts? Newspaper can also be used or any waste paper for that matter.
Ingredients:
⋇flour
⋇water
⋇salt
⋇paper cut into strips
Useful aids:
⋇paint brush
⋇acrylic craft paint
⋇craft varnish
⋇Mold (whatever shape you would like to sculpt)
Method:
Mix the flour and water and whisk until it is smooth and resembles thin pancake batter or wallpaper paste. Add a few tablespoons of salt to prevent mould.
Cut paper into 4cm-wide strips.
Dip your strips into the paste, and run through your fingers to remove excess paste.
Lay the strip over mold, pressing it into place.
Continue until your mold is covered.
Extend the edges of the paper strips beyond the rim of your mold. This will be trimmed once dry.
Put in a warm place and allow to dry completely. This may vary depending on the weather. The back of the fridge gives off constant heat and is a good place to store anything that needs gradual drying.
Once dry, add another layer and allow to dry.
Continue adding layers until the sculpture is the desired thickness and paint.
If you want to give your creations some longevity, you can add a few layers of varnish.
Home-made glue
(From https://pagingfunmums.com/)
Growing up, my mom always gave us a basic mixture of flour and water goop to use as glue when doing home crafts (or even when we ran out of stick glue while doing homework). This recipe is a variant which dries clear, is safe for toddlers who might want to taste it and it lasts for months when stored in the fridge.
Ingredients:
⋇1 cup cornflour or cornstarch
⋇1 tablespoon of white vinegar
⋇2 teaspoons of Salt
⋇4 cups of Hot Water
Method:
Add all the ingredients to a pot and whisk until smooth.
Boil on a high heat until the mixture thickens and becomes clear (a few minutes). Allow to cool and pour into a glass jar to store.