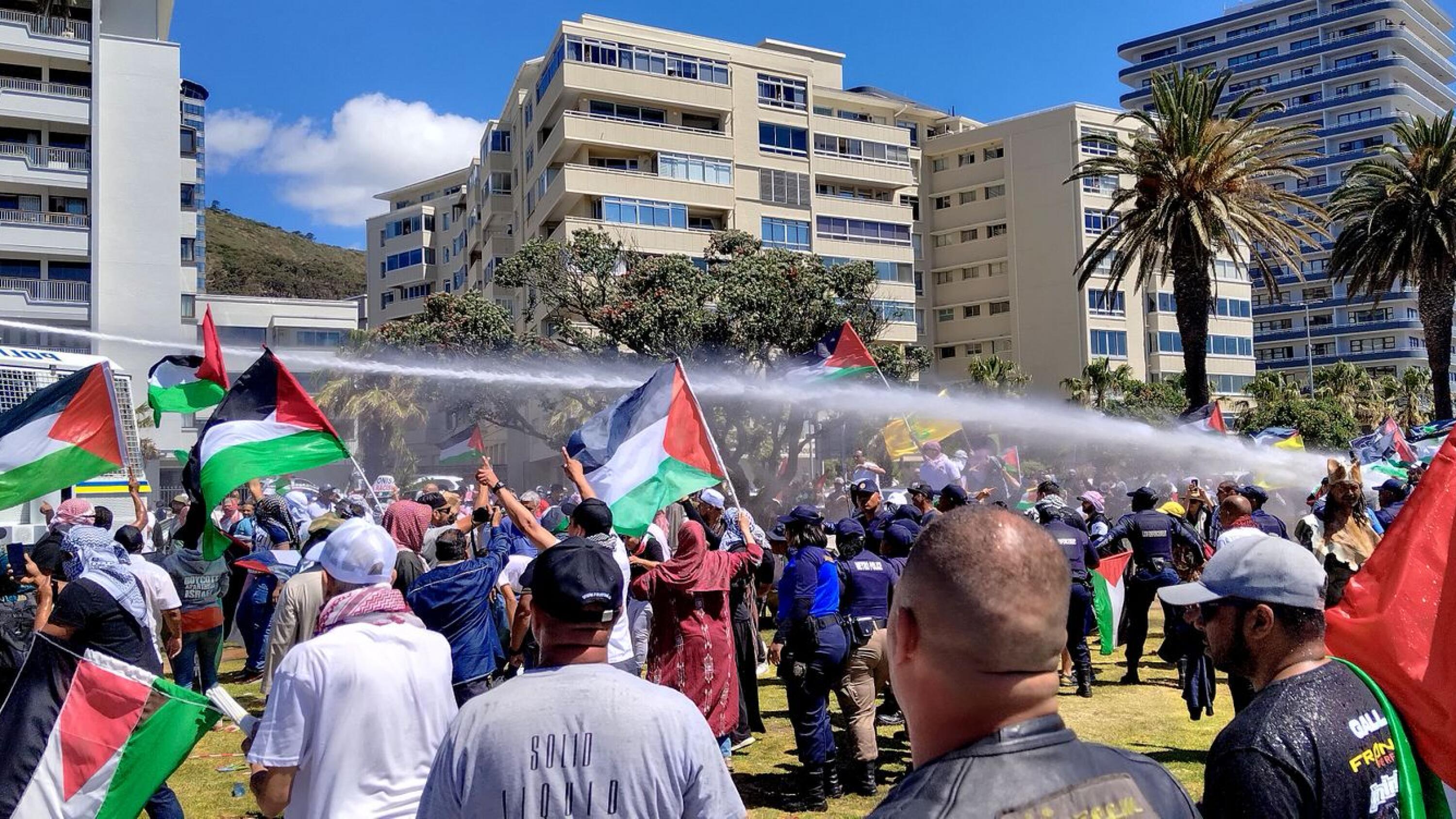 Mayor Geordin Hill-Lewis has urged Capetonians to model the values of diversity, inclusion and tolerance, after police used stun grenades and tear gas in response to angry clashes between Palestinian and Israeli supporters on the Sea Point Promenade on Sunday.
Four men were arrested on charges of public violence, according to provincial police spokesman Captain FC van Wyk.
"SAPS took action using stun grenades and water cannon when disgruntled protesters disobeyed instruction by SAPS to disperse," he said.
Pro-Palestinian protests have been staged in several countries over the past month following Israel's bombing of the Gaza Strip in response to Hamas militants massacring more than 1400 people, mostly civilians, and taking another 200 hostages.
Israel's strikes on Gaza have so far killed more than 11 000 people, according to the Hamas-run health ministry.
Sunday's clashes in Sea Point followed a peaceful pro-Palestinian march by tens of thousands of people through the heart of Cape Town on Saturday.
Tensions boiled over on Sunday, though, when a planned pro-Israeli event was disrupted by pro-Palestinian protesters.
There appears to have been provocation from both sides. At one point, a man, with a pistol on his waist, was seen waving an Israeli flag as he approached the pro-Palestinian supporters who took the flag from him. And pro-Israeli event posters depicting hostages taken by Hamas were seen torn up on the ground. And, in his statement, Mr Hill-Lewis claimed the City had video footage of one of the speakers at Sunday's protest calling Jewish children in Cape Town "murderers".
"Such hateful language should similarly be condemned by all. Radical elements do not speak for Capetonians, and do not even speak for the protesters they claim to represent," he said.
Mandla Mandela, who was among the Palestinian supporters, was seen calling for calm. "We want to thank everyone that is here today as well as yesterday in support of the people of Palestine and Gaza and the occupied part. Every day, every week and every month we will show up in our numbers and occupy every space," he said.
Mr Hill-Lewis said Cape Town had so far been an example of tolerance "in a time of great global dispute and conflict", and he commended the peaceful conduct by all during Saturday's pro-Palestinian protest.
However, he said the violent disruption of a "planned peaceful prayer gathering in support of Israel" should be condemned by all Capetonians who valued free expression in a democracy.
"Every person or group, of every belief and persuasion, has the right to protest peacefully in South Africa."