In commemorating 45 years since the death of anti-apartheid activist Robert Sobukwe, as well as 60 years since he was first detained on Robben Island, the Council of the Robben Island Museum (RIM) has declared 2023 as The Year of Robert Mangaliso Sobukwe.
The launch took place last Wednesday at Sobukwe House on Robben Island, where he was held in solitary confinement for six years.
"On this day, 60 years ago, Robert Mangaliso Sobukwe was banished to Robben Island as a political prisoner of a special type, and as a Council, we made a unanimous decision to declare 2023 as the Year of Robert Sobukwe, so we can create an array of touch points throughout the year, where we can honour this remarkable man who gave so much of himself for the liberation of our people," said Professor Saths Cooper, RIM Council chairperson, during his opening remarks.
Dr Cooper said Mr Sobukwe, founder of the Pan Africanist Congress (PAC), lead marchers during the Anti-pass Campaign, on March 21,1960. A pass was a document that all "black" South Africans had to carry to allow a "pass" into the cities during apartheid.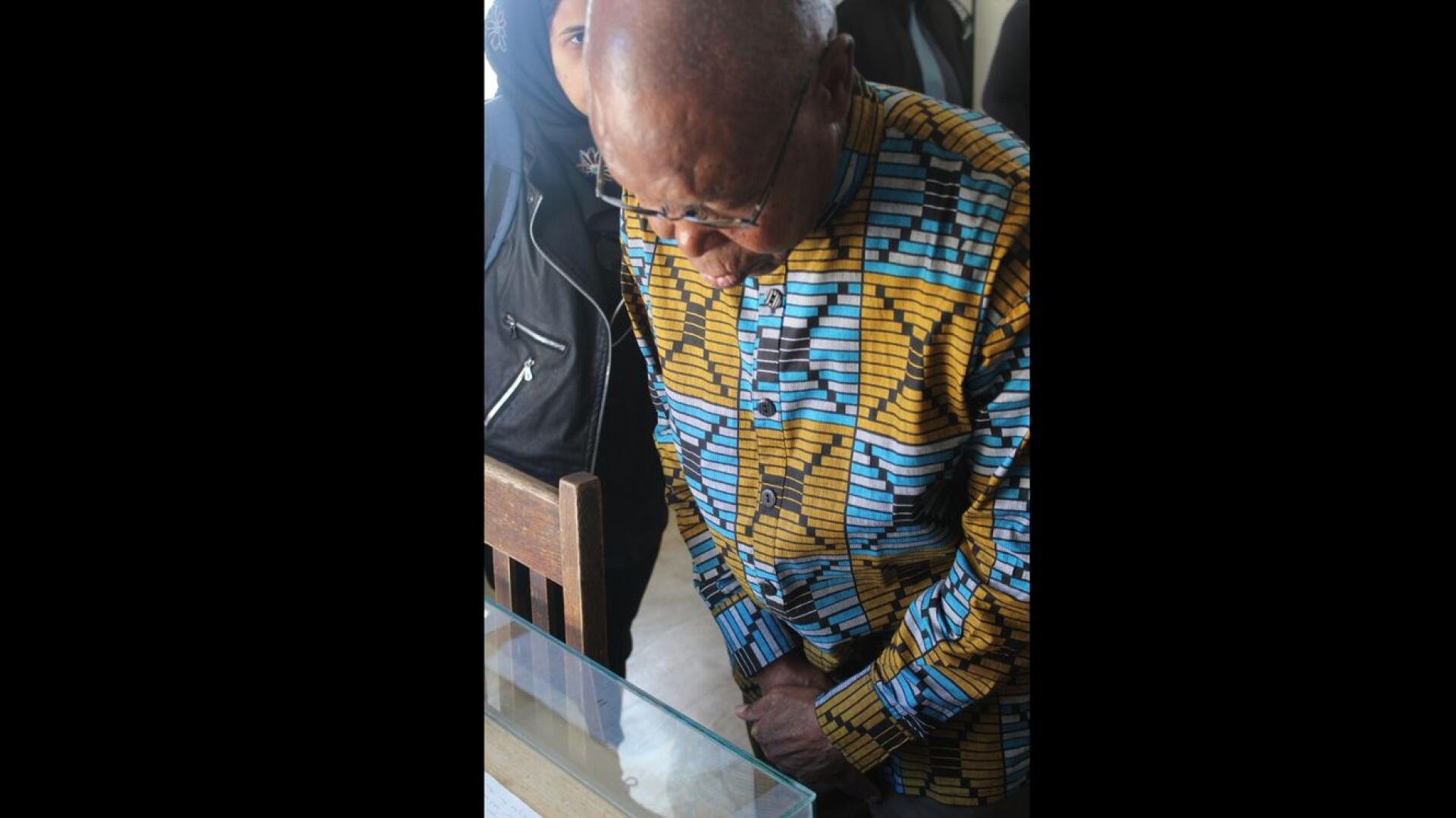 Ex-political prisoner Joseph Nong "Bra Joe" Thloloe shared memories of Mr Sobukwe, describing him as "the greatest man I know".
He spoke of Mr Sobukwe's grave in Graaff-Reinet, and the words written on his tombstone: "True leadership demands complete subjugation of self, absolute honesty, integrity and uprightness of character, courage and fearlessness, and above all, a consuming love for one's people".
"This describes Sobukwe completely. He was selfless, he was a man of courage and he loved his people. Imagine what South Africa could be if we all lived by those values."
Nomfundo Sobukwe, who spoke on behalf of the Sobukwe Family, said she was grateful that her grandfather's legacy can be preserved for future generations, and that he was celebrated. "He had remarkable resilience. He knew we were meant for better things than struggling and suffering."
She said that because her grandfather was feared by the apartheid government, she resented her family name many times, and would often say she would change her surname when she married.
However, she told the CapeTowner that, in celebrating her grandfather's legacy, she was proud to be a Sobukwe.
Mr Sobukwe's nephew Geoffrey Mamputa, said despite people seeing a radical communist and feared activist, he was a deeply religious and spiritual man. He said Mr Sobukwe, or Uncle Mangi, as he called him, was an elder in the Methodist Church. He said Mr Sobukwe was also an avid choral music fanatic.
He said his uncle spoke more than seven languages, and this helped his ability to relate to people. "He could appeal to the mine worker and could appeal to the academic."
He said his uncle taught him that you should be able to relate to anyone – be it the president or the sweeper – in the same way.
He said his uncle also had a subtle respect about him that stood out. "When someone passed him, he would remove his hat, or when he greeted, he would stand up."
Mr Mamputa said celebrating his uncle brought a sense of excitement and deep meaningfulness.
"The name Sobukwe was like a curse. But today, we can see 'hy was nie n gogga nie'. He wasn't a threat to anybody and he is being acknowledged for what he has done. It exposes the respect and recognition South Africa gives him."
PAC president, Mzwanele Nyhontso said they were happy about the launch of the Year of Robert Sobukwe. "We are here today to make sure his legacy is preserved, we are also fiercely guarding against any move to separate Sobukwe from the PAC."
RIM Council member, Litha Jolobe, during his closing remarks, recognised the significant role of the PAC during his years as a prisoner on Robben Island, sharing anecdotal experiences of how ANC members sought guidance from PAC members during disagreements on the island, at the time of their incarceration.
"Robben Island is a convergence of multiple rivers that all flowed along the pathway to liberation. It may be time to rewrite the history of our country, as it really unfolded, and this starts with research among the people."