For the first time since its inception, the sixth edition of the International Public Arts Festival (IPAF) took place in the city centre, with local and global street artists adding 12 new murals to the CBD's skyline.
Hosted by Baz-Art – an organisation that facilitates street art, the festival took place from Wednesday February 23 to Sunday February 27, and was themed humanity, with the goal of focusing on connection and community.
Centralised in Canterbury Street this year, one of the core aspects were immersive art tours, which served a dual purpose of getting the public closer to the artists and their works, and supporting local tour guides, who were hard hit by the pandemic.
Dennis Molewa, host of IPAF 2022 and communications manager at Baz-Art, said the festival intended to provide a boost to Cape Town's recovering tourism industry.
He said visitors got a chance to experience three different street art tours within the centre of Cape Town – two guided tours and a self-guided tour which could be enjoyed on foot or by bike.
"All profits generated from our street art tours go directly to the tour guides as well as tips. This intervention is a welcomed entrepreneurial opportunity for Cape Town's local tour guide community."
Mr Molewa said visitors were able to discover their city centre through an art lens. There were additional events and workshops to build a closer connection between the artists and the public.
"Street art is a powerful means of expression. It's important that people's stories are heard as part of the experience," he said.
On a walk-about with the CapeTowner, founder of Baz-Art Alexandre Tilmans said street art is important because as soon as you paint in the streets, everyone sees it and it creates more opportunities for the artists.
"Every year, we get a new intake of artists, we get to know them and how they paint, and then we get them work. The festival is the boarding platform for these artists."
He said while this was the first time the festival took place in the city centre, the new works joined older ones put up in previous years.
An example of these murals were the dog in Harrington Street created by Belgium artist Bart Smeets and which features a child, a dog and aviation.
"Every mural has got a meaning and that's what makes it beautiful."
Mr Tilmans said they brought the tours on board as part of plans to expand the festival.
"We wanted the festival to grow and we realised that working with the tour guides will create good opportunities, so we contacted the tour guides and then trained them in street art."
The tour guides are based at Electric in Canterbury Street, and will continue with tours after the festival.
Cape Town tour guide Sheldon Peinke said the tours enable international visitors to speak to South African artists and discover the meaning behind the murals. This is intended to create a feeling of connection and community, encouraging more people to take part and invest in the city and country. The move to Canterbury Street broadcasts loud and clear that Cape Town's CBD is open for business, he said.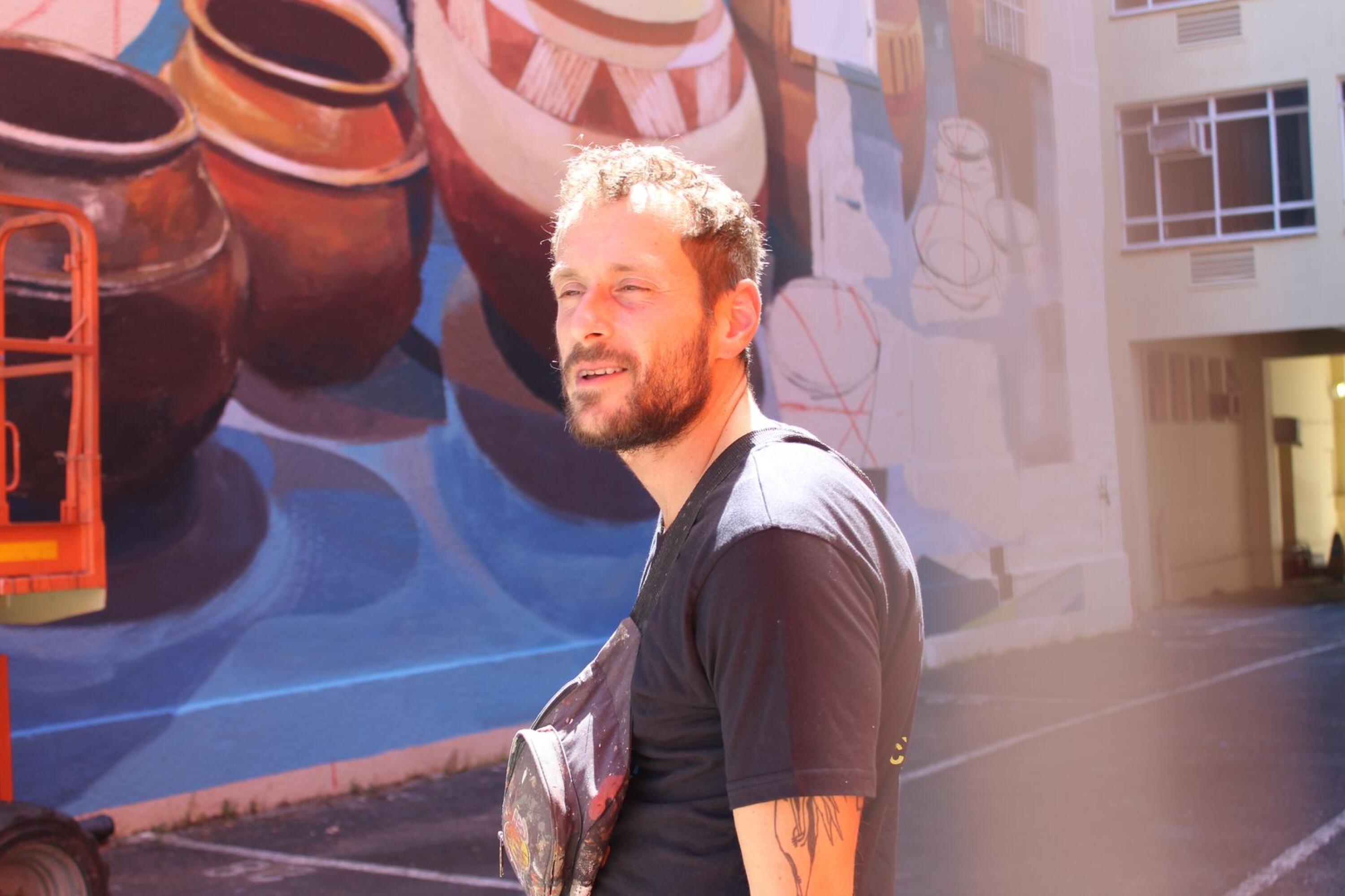 Artist Manolo Messa came from Spain to do artwork in Caledon Street.
Mr Messa said he loves South Africa because the people are helpful and "human". He said street art was a good way for him to get exposure for his work.
Mr Messa's mural was of ceramic pots. He said African pots represent different people and stories of those who made them. "It's a way of life for many, and I want people to perceive this work as they see it."
Artist duo Case MacClain painted a photo realistic picture of Raheed – a boy from a Bo-Kaap family with whom they were acquainted.
They said they were attracted to his energy and optimism.
A group of five artists from Cape Town and Johannesburg painted a mural in Loop Street on the current issue of Covid-19 vaccination hesitancy.
They drew inspiration from old-time comics and had a constant theme of superheroes in their five-piece mural, encouraging people to get their shot.
Mr Tilmans said this installation of the IPAF was very different from Salt River as the artists had to paint higher up, with bigger ideas and bigger murals. "This was the first time some of the artists did murals like this, and everyone learnt something new."
Baz-Art collaborated with the IPAF community and initiated the first IPAF in Salt River in February 2017. Through IPAF over the past two years, Baz-Art and more than 70 local and international artists have transformed the streets of Salt River into an open-air national art gallery featuring over 100 public artworks.