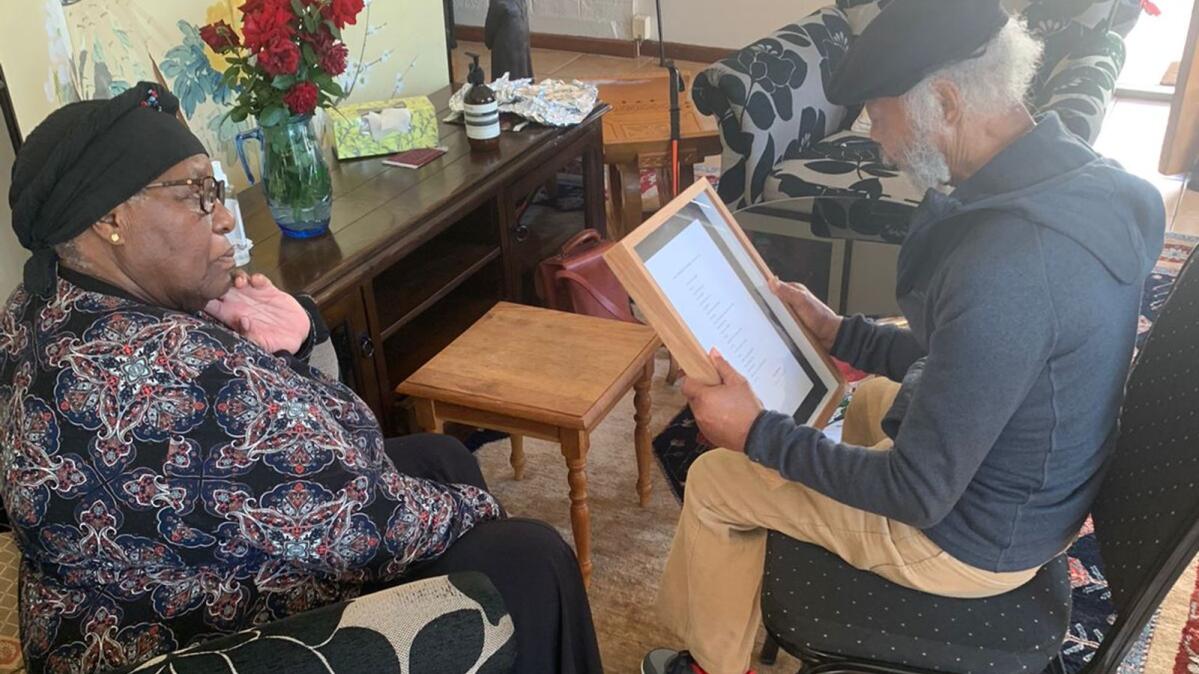 Anti-apartheid author and poet James Matthews, 92, has written a poem in honour of the late Archbishop Emeritus Desmond Tutu.
He handed a framed copy of the poem, titled A poem dedicated to Archbishop Desmond Tutu, to Archbishop Tutu's widow, Leah Tutu, on Friday April 1.
Mr Matthews originally planned to give Ms Tutu the poem at the opening of Truth To Power: Desmond Tutu and the Churches in the Struggle Against Apartheid, a permanent exhibition at the Old Granary Building in Cape Town, on Thursday March 24. However, she did not attend. He then arranged to visit her at her Milnerton home a week later.
Having been able to write the poem is significant in itself, as Mr Matthews struggles these days with reading. He calls his condition "mental epilepsy", which also affects his short-term memory.
"When I finished writing the fourth paragraph of the poem, I had already forgotten the first three," he said.
"I didn't think I would be able to write at this stage, but I was determined to do it. It took me some time to write it. There were times when the words I had written were not the words I wanted to say, but I finally got it together. I did not know the Arch intimately. I got to know Leah more intimately than the Arch, but I had great respect for him. I am so engrossed with the Arch," he said.
At the opening of the exhibition, Mr Matthews asked a friend, Fadli Wagiet, to read the poem, as he was unable to climb the steps to the podium. This was the first time that the poem was made public.
"So many people were so receptive to it, and it made me feel better about the effort I put in," said Mr Matthews. "I wrote it around the time of the Arch's death (Sunday December 26, 2021), and it took me about one-and-a-half weeks.
"Usually I would write something like that in less than half a day. However, apart from the challenges I had writing it, the strong feeling I have for the Arch and what he meant to all of us, makes this poem so much more important."
A poem dedicated to Archbishop Desmond Tutu
a priest of the people
has died
a man filled with piety
and merriment
who defied the horror
of apartheid
with personal confrontation
and prayer
those in the western world awarded him the
Nobel Peace Prize
he was not a seeker
of fame
displaying the humility granted
by God
for us who strived to follow
his lead
a banner and glowing beacon
forever etched in our
heart and mind
Leah Tutu, we are grateful sharing
our Arch