People living on the streets received their Covid-19 jab at The Hope Exchange in Roeland Street today, Friday, August 6.
Staff from the Western Cape Department of Health, as well as volunteers from The Hope Exchange and Souper Troopers stood by to assist 250 homeless people to receive a once-off Johnson&Johnson vaccination.
Reverend Annie Kirk, who is a board member at The Hope Exchange, said the process to get street people registered for identification started in 2018, when they approached the Independent Electoral Commission (IEC) to discuss how homeless people could register to vote for elections, seeing as some of them did not have IDs, or could not remember their ID numbers.
She said while the talks with the IEC are still ongoing, they re-explored the idea with the Western Cape Department of Health after the Covid-19 pandemic hit, and homeless people had to be registered for the vaccine.
Reverend Kirk said they had come to an agreement to take peoples' names, dates of birth or age if they know it, register the clients, and upload their information later after they were identified in the system.
"Their IDs must be issued from the Department of Home Affairs for the next elections and that is an issue we still need to iron out, however, we are pleased with how the health department assisted us with the vaccinations."
She said homeless people were receiving the Johnson&Johnson jab, as many of them did not have means to track their booster vaccination appointment, or hold onto documentation as they were living on the streets. The other vaccination currently in use, Pfizer-BioNTech, requires a second dose.
Many homeless people showed up for their jab, while volunteers from the Souper Troopers and The Hope Exchange assisted with social distancing, sanitising and queuing.
After they received the vaccination, clients were given Panado tablets and sat in an observation area for 15 minutes with a snack before they could leave.
"People may have mild side effects and they can come back (to The Hope Exchange) if they have any worrying side effects."
Clients who spoke to the CapeTowner said they were nervous, but glad to have received the once-off jab.
Cyrillene Pieterse said she decided to get vaccinated after more than half of the people at the shelter she was living at tested positive for Covid-19. "I needed to protect myself."
Khanyiswa Mahote, who has been living on the streets for 5 years, said she never thought she would have the opportunity to be vaccinated. She said although she was nervous, she decided to receive the jab and is happy with the result. "I think I am going to be just fine!"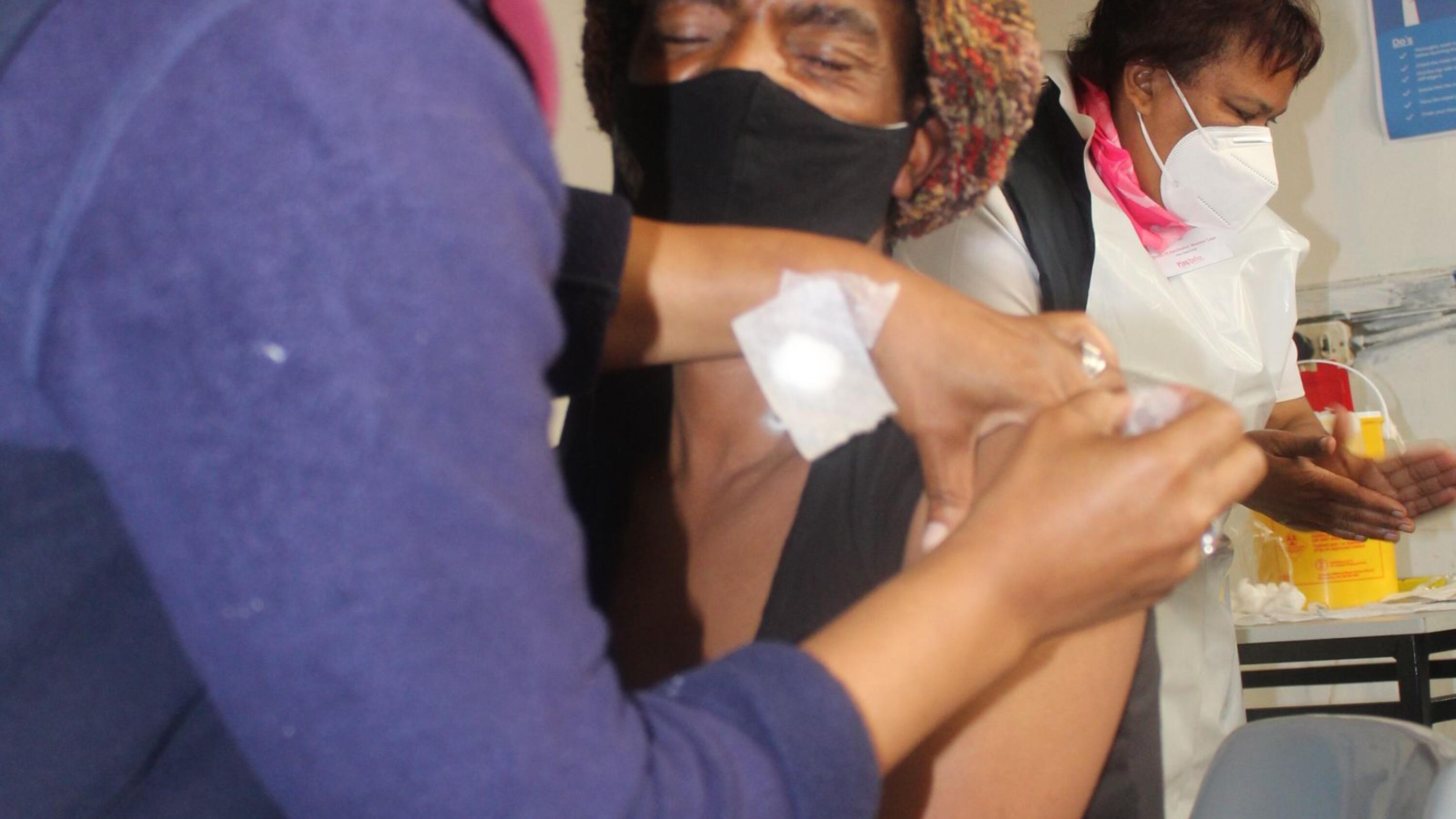 Brendan Louw has been homeless for 28 years, and found out about the vaccination through the Service Dining Room in Canterbury Street, where he is a regular client.
"I am HIV positive and I think it is a good step to take for my health.
"I didn't ever think I would be vaccinated. I just heard of people dying, and I lost a friend to Covid-19, so I have peace of mind now.
"Many street people are sceptical but I'm glad I received it – I want to live long."
Kaylin Albrecht who used to be on the streets and now lives in Delft, found out about the vaccination from CBD-based upliftment organisation, Streetscape, where her boyfriend currently works.
She said she decided it was important to get vaccinated to get a job, so she went with her partner to get tested for Covid-19. After they tested negative, they decided to get vaccinated.
"I was scared but I went through with it. I never thought I would be vaccinated, but I think I'm going to be fine. I was scared, but its for my own well-being."
She said small talk within communities scare people but she said she would encourage those who are scared to get the jab.
Asked about the next step in the process for vaccinating homeless people, Reverend Kirk said the lessons from today will be taken into the next phase. "We have already identified other sites where homeless people are situated and if need be, we would come back here and use this space again."
Asked about the process of vaccinating homeless people, and the numbers who have already received the jab, Cayla Murray, the spokesperson for Premier Alan Winde, said they could not provide totals on the number of undocumented people who have been vaccinated.
Each person vaccinated is registered on the database of the vaccination site and it does not distinguish between whether a person is homeless or not.
"Our teams work with many shelters and organisations and are informed of undocumented people at these shelters. We also know of certain areas where people are not linked to a shelter and have thus identified these areas as well, and they are keen to take up the assistance to be vaccinated. There have been no reported adverse events at these vaccination drives."
Homeless people eligible for the vaccine must be 35 years old and over. Those who tested positive for Covid-19 since the beginning of July or less than 30 days ago cannot be vaccinated.
Clients can use either their IDs, passports, asylum permits, ID numbers, hospital cards or their date of birth.