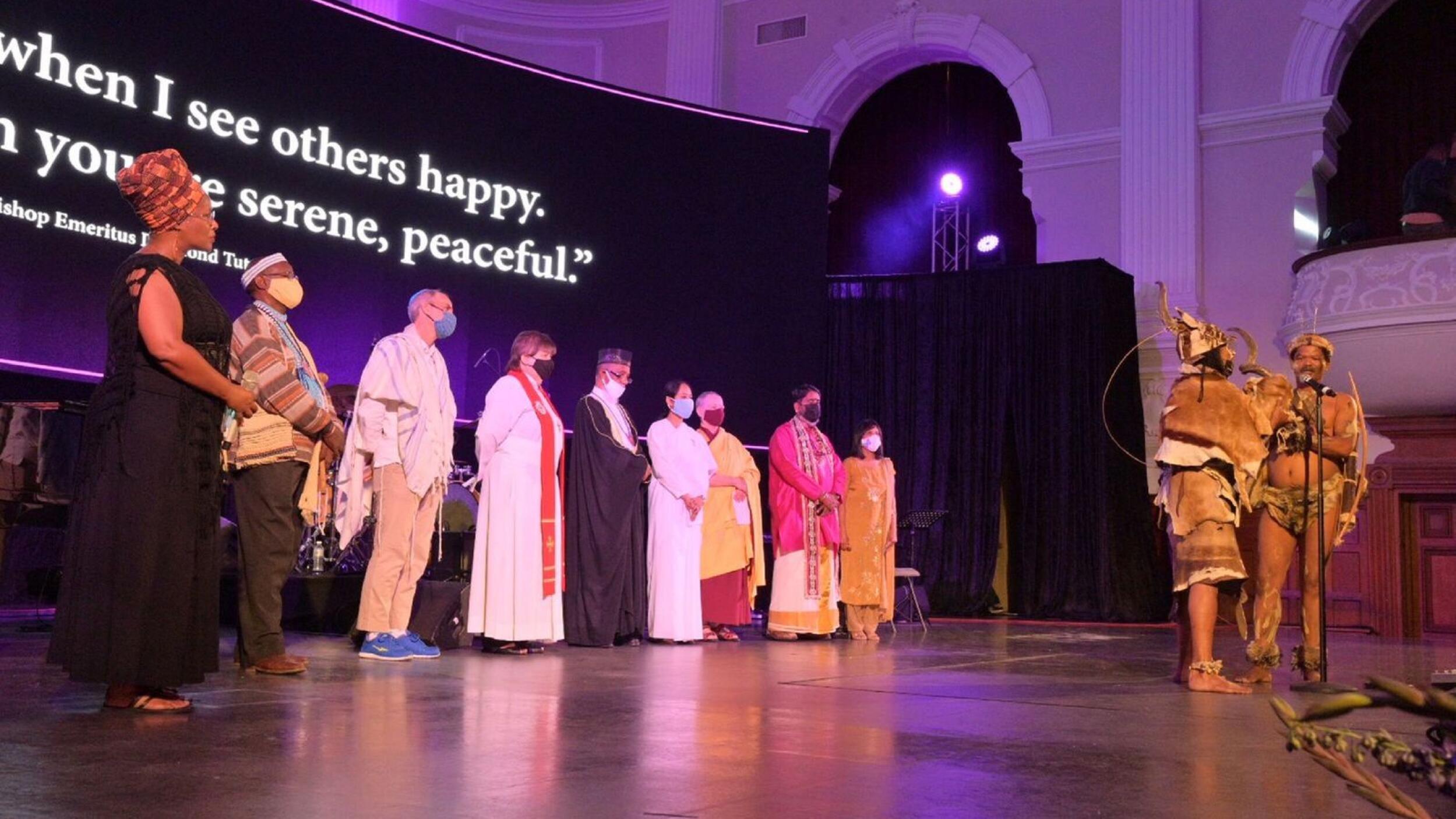 City of Cape Town mayor Geordin Hill-Lewis paid a moving tribute to the late Archbishop Emeritus Desmond Tutu at his interfaith memorial on Wednesday December 29.
All eyes, local and international, were on the service held at the City Hall where Mr Hill-Lewis paid his last respects to the doting Arch, who died on Sunday December 26.
Welcoming foreign guests and international viewers, who streamed the event as far as Europe and South America, Mr Hill-Lewis greeted the audience in various languages.
"Ninety years, two months and 19 days ago, a little child was born who would go on to bend the arc of history for an entire people and country.
"Few people have had such profound personal impact on events, or will ever do so," Mr Hill-Lewis said.
He described the Arch as a a "remarkable man, whose entire life shouted a message of hope and faith", an "early prophet" .
Citing Hebrews, he said earlier prophets were "still living in faith when they died".
"So it was with the Arch, a man of deep faith who received the Eucherist almost daily until his very final days, and who lived his whole life in faith for that which he hoped to see."
The mayor said the Arch, for decades, worked towards justice and respect for all, "even though he could not see it".
Mr Hill-Lewis said Arch Tutu spent a significant part of ministry under apartheid oppression and harassment.
"He always believed that a better future was possible, even if not yet visible."
"And when it seemed in 1994 that his hope, his faith, his perseverance has been fulfilled, he did not waiver even then from his faith in things unseen," Mr Hill-Lewis said.
Seemingly making reference to the Arch's well-known clashes with the ANC, the mayor said: "In the years when our fragile democracy took blow after institutional blow, he was there never flinching from holding a mirror up to our nation and bringing sharp conviction and rebuke."
He said he had never met the Arch, but felt his radiance of influence and his powerful messages.
Speaking of Arch Tutu's relationship with the city, Mr Hill-Lewis said he loved Cape Town and that when other cities turned their back on him after winning the 1984 Nobel Prize, Cape Town opened its doors to him and he was given the throne as Archbishop. A party was held for him.
Relaying a story from that party, the mayor said: "I am told that at that party, one guest remarked that so fierce and terrible was the Arch's reputation at the time, manipulated as it was by the government propaganda of the day, that she was afraid when he approached her table.
"Only to be bowled over by his infectious laugh and warmth."
A populist section on social media has attempted to smear the Arch's legacy since his death.
Addressing this crowd, Mr Hill-Lewis said: "Some South Africans of a certain generation – similar to mine – have taken to deriding this colossal legacy by arguing that the Arch was too forgiving, too loving, too gracious, too big.
"I think he would cackle at this charge and thank them for that validation of his ministry."
Numerous roads in the city centre are closed until Saturday January 1 due to the funeral service for the late Arch. A full list of road closures is available here: https://bit.ly/RoadClosures-TutuFuneral
The Company's Garden will be closed on New Year's Day, due to the funeral service.
A public viewing area for the funeral service will be set up on the Grand Parade.